CRNI Newsletter Q3 2020
Upcoming Events
For full calendar, visit here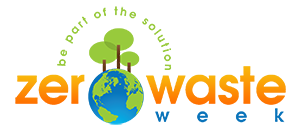 7-11 September: Zero Waste Week. See here for local events.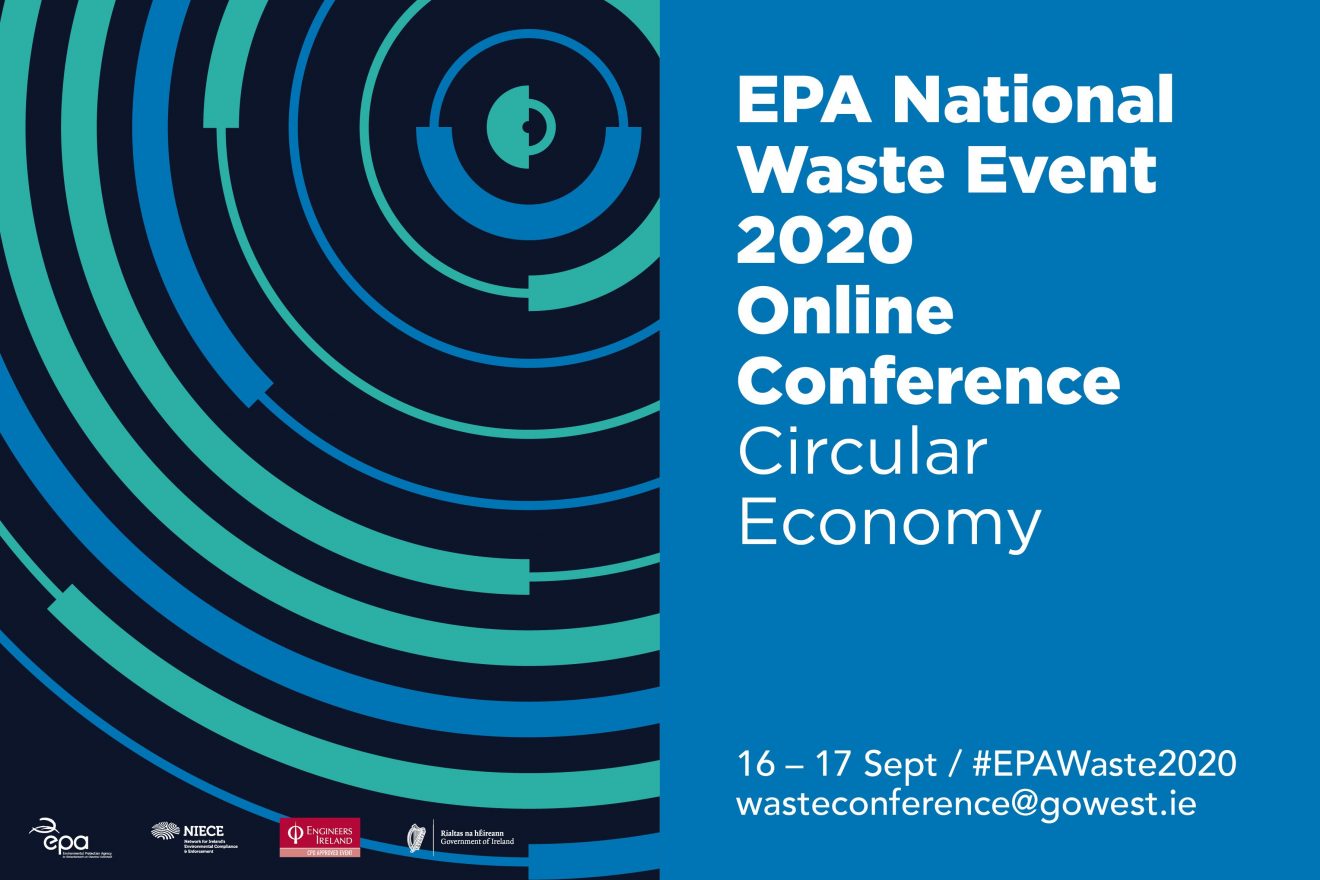 16-17 September: EPA National Waste Event 2020 Online Conference. Register here.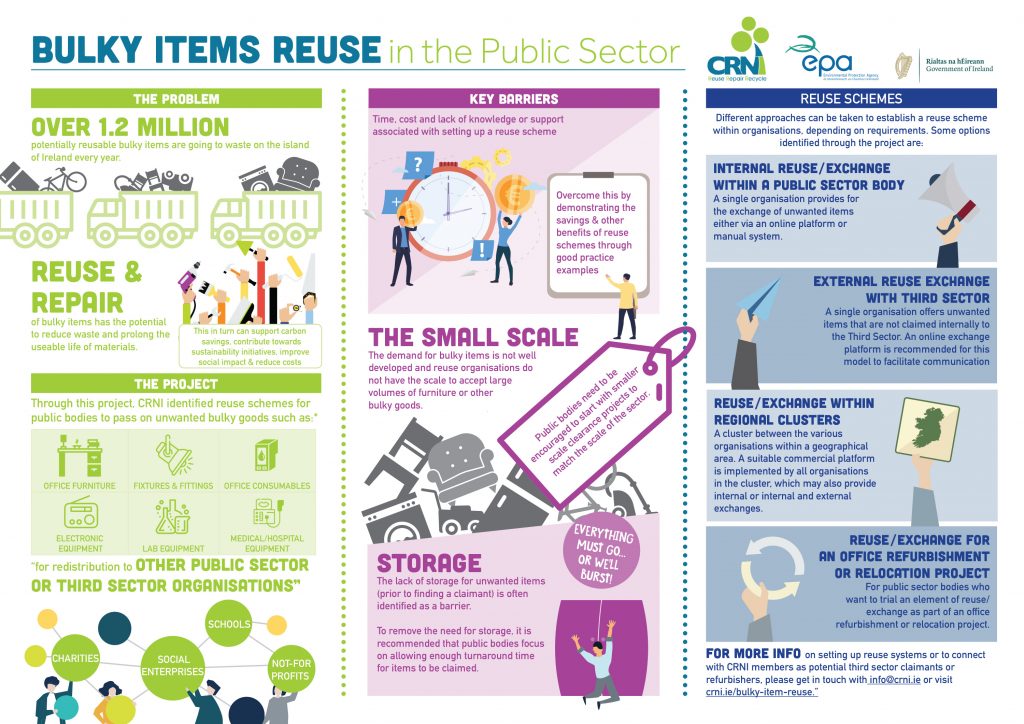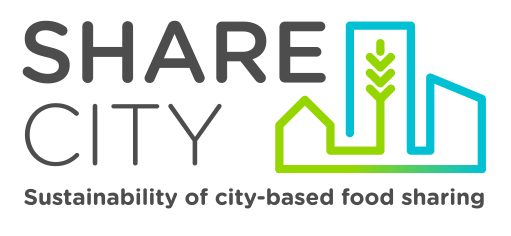 22-24 September: Sustainability of food sharing. Register here.

October: National Reuse Month. Keep an eye out here for details.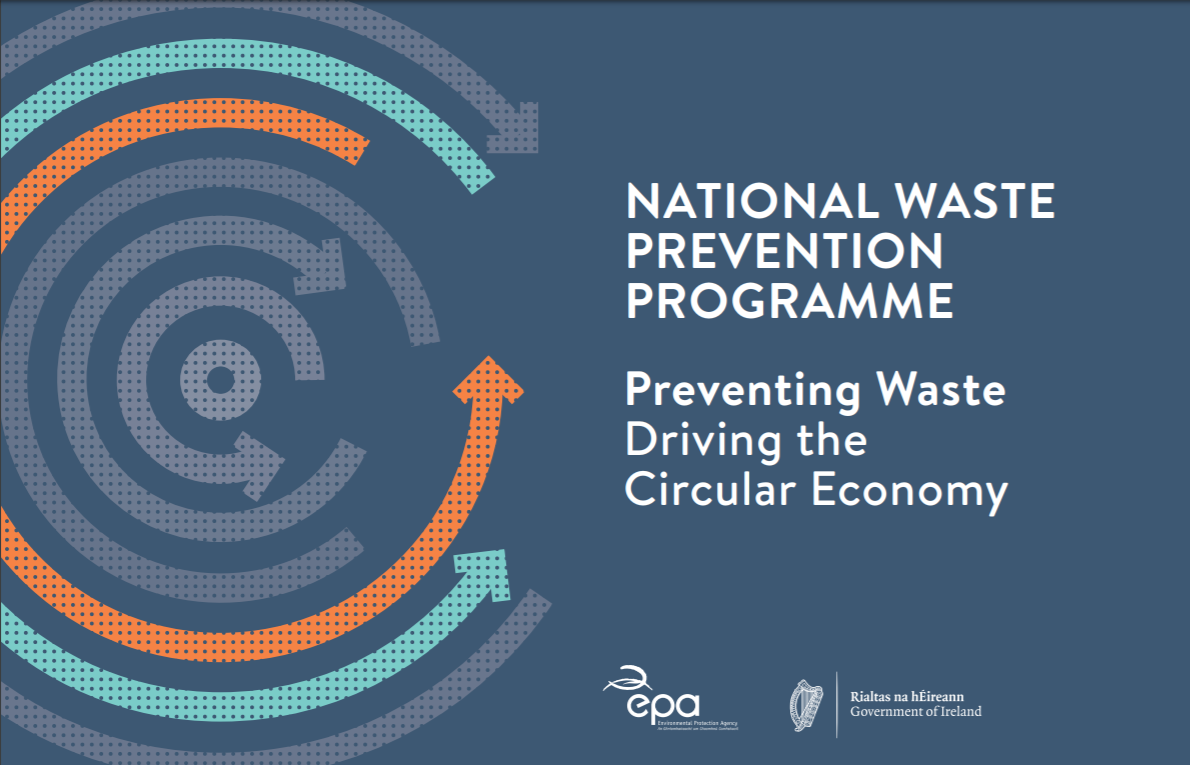 NWPP report 2019
The EPA has published the National Waste Prevention Programme (NWPP) report for 2019 highlighting activities and initiatives which support the transition to a circular economy in Ireland.
CRNI and member highlights include the launch of the Rediscovery Centre's circular economy mentoring academy, FreeTrade Ireland reusing 8,300 items, and CRNI supporting its members to reuse 24,000 tonnes of materials.
The report also highlighted the reach of the RepairMyStuff.ie with 800 businesses and 8,000 monthly users, spend of €400,000 on

Green Enterprise projects to support innovation and demonstration, the establishment of a new circular manfuacturing platform

CIRCULÉIRE,

support for 58 local waste prevention initiatives and messaging to over 2 million people on food waste prevention

.

A new focus in 2019 was also working with the construction and demolition sector to tackle high-volumes of wastes in this critical sector.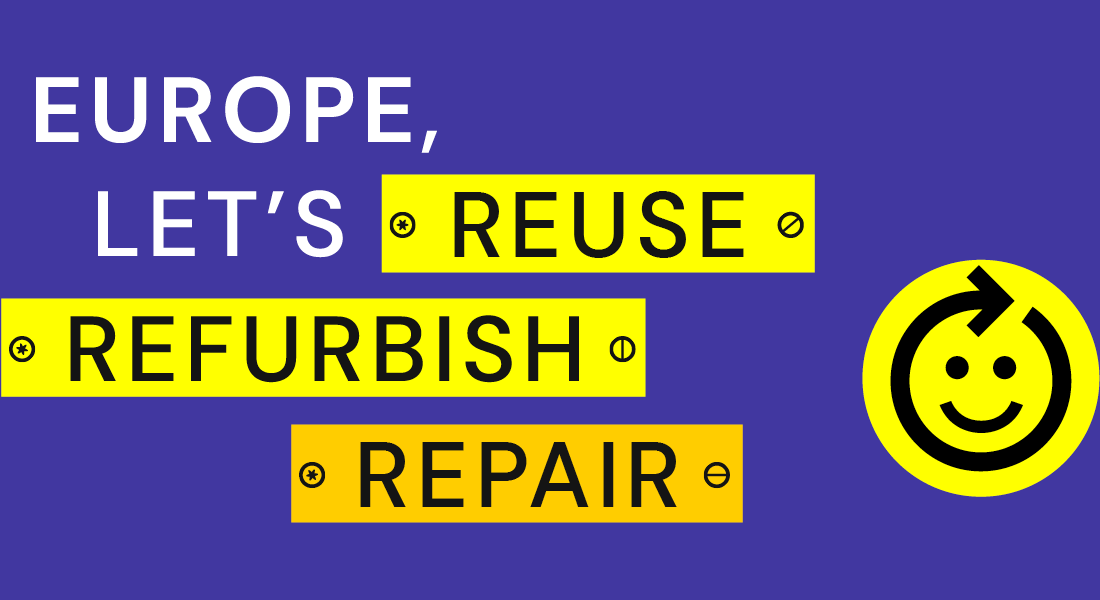 Flying the flag - repair heroes
On the 17th of October, repair heroes from CRNI members Duhallow Revamp and An Mheitheal Rothar will be given the stage as part of International Repair Day. Coordinated by the Right to Repair movement and the European RREUSE network, the campaign will see them participate in a series of short videos about heroes from across Europe to highlight their contribution to the repair movement. Read more here.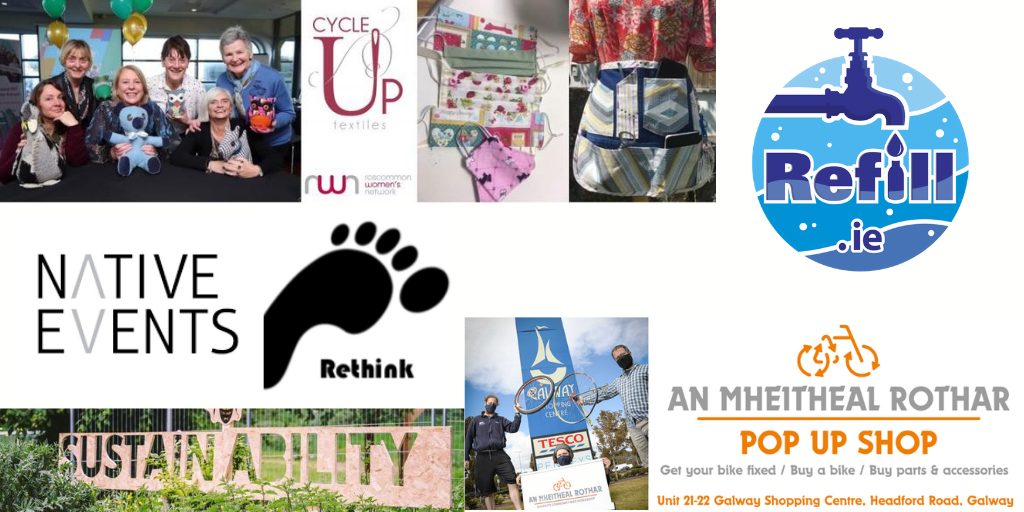 Welcome to 5 new members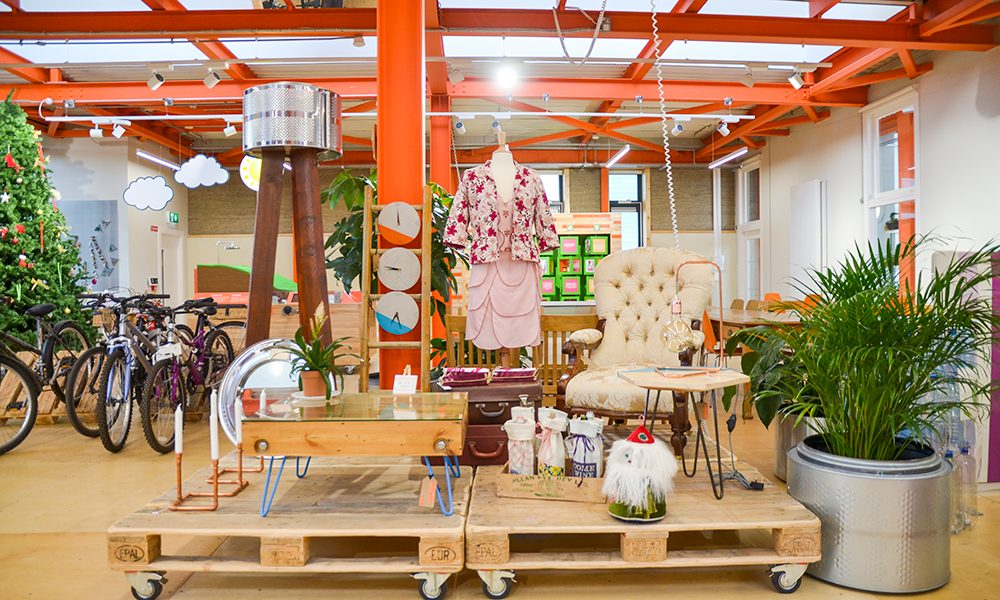 Circular Pioneers
The Rediscovery Centre and CRNI were recently selected as a Circular Economy pioneers in the CIWM Circular Online magazine. The feature 'Circular pioneers | innovative start-ups driving the circular economy' covered innovative organisations, which are seen to be to the fore in driving the circular economy.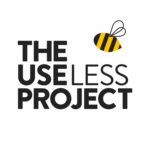 UseLess Rebrand
Sustainable Fashion Dublin have rebranded to theuselessproject, and aims
to provide a bridge towards more sustainable living including fashion and food prevention, reuse and repair.

Confidential Shredding NI
USEL has recently launched UShredNI for Confidential Shredding.
USEL is the only social enterprise in Northern Ireland providing this service. For more about their activities see here

Shortlisting for EU CE award
Thriftify was recently shortlisted as one of five EU applicants for the finals of the European

Raw Materials and Circular Societies Prize. I

n the next stage they will pitch their idea to an expert panel jury which will conclude with an award ceremony in October 2020.
Recycle your Cycle up for award
An Mheitheal Rothar's "ReCycle Your Cycle" initiative has been shortlisted by Materials Recycling World for two recycling awards: Circular Economy Initiative and Team of the Year. See here for details.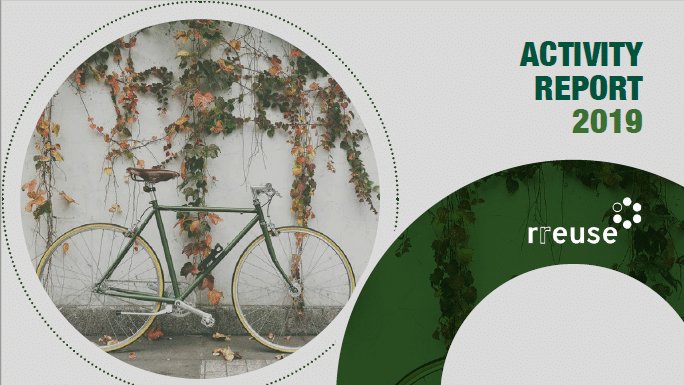 RREUSE Activity Report 2019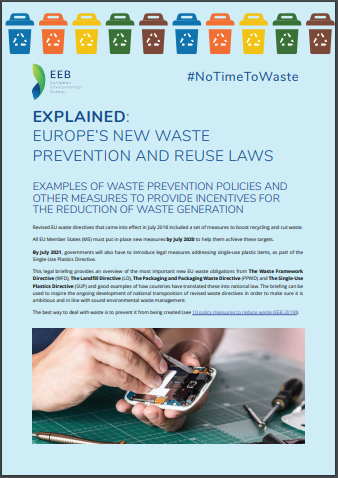 EEB reports on best practice
The European Environment Bureau has published a series of papers describing and providing examples of best practice in prevention and reuse laws, economic instruments and separate collection methods.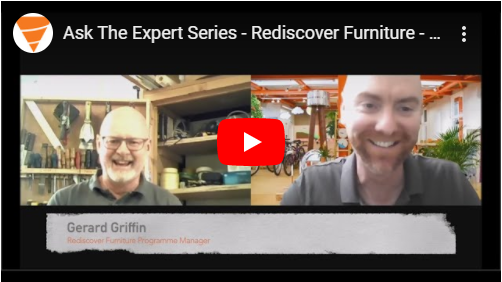 Ask the Expert - Reuse & Repair
Series of online videos where experts from the Rediscovery Centre answer your questions on bicycles, furniture, paint, fashion, and more. Join the next one, or watch them back here.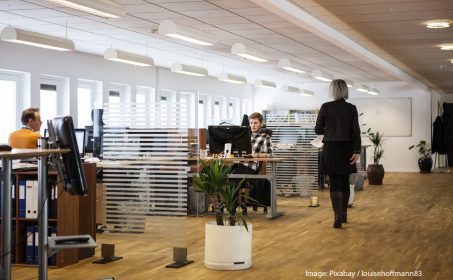 Framework for Circular Procurement