Guest News Contributor Recycle IT.
Seasonal Festive
Halloween is an annual event celebrated each year on October 31, and this year Halloween occurs on Thursday, October 31. It is the day before All Saints' Day and is also sometimes called All Hallows' Eve
Halloween originated with the ancient Celtic festival of Samhain when people would light bonfires and wear costumes to ward off ghosts. Over time, Halloween evolved into a day of activities like trick-or-treating, carving jack-o-lanterns, festive gatherings, donning costumes and eating sweet treats.
Wasting Halloween
Halloween might be a fun time for the family and a good sales opportunity for businesses, but it's not great for our planet or environment. It helps create tonnes of food waste, mountains of cheap plastic accessories and decorations and bags of never worn again costumes.
The National Geographic Society reports that plastic pollution has become one of the most pressing environmental issues, and the rapidly increasing production of disposable plastic products has overwhelmed the world's ability to deal with them.
Did you know, plastic production increased exponentially, from 2.3 million tons in 1950 to 448 million tons by 2015. Production is expected to double again by 2050.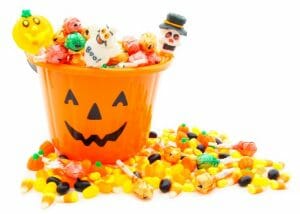 Halloween is a time when we could make a decision to go plastic-free, with no plastic sweet wrappers, not plastic decorations, no plastic bags and no plastic costumes. We could even go a step further and reduce the amount of sweet consumed!!
According to the Environmental Protection Agency people living in Ireland produce over 15 million tonnes of waste every year. We do this in our homes, our places of work and while undertaking leisure activities such as Halloween events. In 2016, each person living in Ireland produced, on average, 580 kg of municipal waste. This is well above the European average of 487 kg, and this type of waste is particularly difficult to recycle.
It is a real mixture of materials just dropped in the bin; do you think about how you dispose of your waste?
Here are simple tips to help this year 
1: Don't buy plastic trick-or-treat bags – how about using an old pillowcase.
2: Make the costume at home. 
3: Host a local kids costume swap party prior to Halloween. 
4: Reuse, repurpose or donate old costumes to a charity shop
5: Cut down on sweet treats and particularly sweets in single wrappers. 
6: Bake your treats or make toffee apples at home. 
7: Fruit treats are an excellent idea for Halloween.
8: Eliminate plastic decorations. 
9: Use biodegradable or reusable plates and cups. 
10: Provide homemade finger foods and treats that can be eaten without plates.
11: Dispose of your pumpkin responsibly by composting and feeding to animals.
12: Stay local when trick or treating – no carbon miles required.
13: Use LED mains powered lights rather than battery operated lights 
14: Avoid mass-produced plastic items sold for a euro – it's waste waiting to happen! 
15: Don't buy any new bits to decorate the house, use existing items. 
16: If you do buy decorations, buy second hand for reuse! 
Finally
You don't immediately think 'zero-waste when you think about Halloween, but if you plan ahead and consider the above tips, you can have a lower-waste Halloween than last year.  Please do enjoy your Halloween weekend and if your going out on the night stay safe and visible.
About Recycle IT
Recycle IT is an award-winning social enterprise providing a community, personal and business collection service for all types of waste electrical and electronic equipment (WEEE) in Dublin and surrounding counties.
During 2018 Recycle IT offered to drop off and collection services to tens of thousands of homes, schools, charities and businesses across Dublin and surrounding areas collecting a range of WEEE which includes thousands of computers, cables, monitors, microwaves and screens
Recycle IT services are provided in partnership with WEEE Ireland. Recycle IT is supported by Pobal, Dormant Accounts, South Dublin County Council and authorized by the National Waste Collection Permit Office and the local authorities across Dublin, Kildare and Wicklow.